RUDOLF SCHENKER ON TEAMING UP WITH MEGADETH
A powerful tour that unites two different schools of metal with mutual respect for one another. In this article, Loudwire had the opportunity to speak with Scorps' axeman Rudolf Schenker before the jaunt gets under way.
LESS THAN 1-MONTH UNTIL
NORTH AMERICAN CRAZY WORLD TOUR
CRAZY WORLD TOUR
Get ready to rock! Here is a show coming to your area. See full tour schedule below. Tickets and VIP Packages on sale now.
SHARE
WITH YOUR FRIENDS


TALKING METAL SPEAKS
WITH MIKKEY DEE
Topics include the upcoming Scorpions tour with Megadeth, King Diamond, Motorhead, Don Dokken, Ozzy Osbourne and much more.
VIP PACKAGES AVAILABLE

Package To Include:
One (1) front row ticket
Priority check-in and entrance (where available)
Meet & Greet with select members of SCORPIONS
Photo opportunity with select members of SCORPIONS
Access to the pre-show reception with complimentary appetizers, wine, beer and soft drinks
Merchandise item designed and created exclusively for package purchasers
Collectible laminate to remember your evening
Onsite check-in staff
NEW INTERVIEW WITH
MATTHIAS & NEW YORK'S Q101.7 FM
Listen now to Matthias discussing the Crazy World North American tour, as well as his views on touring in general and the 1988 Monsters of Rock tour.
NORTH AMERICA – WIN TICKETS NOW
[smarturl.it/TSWTO]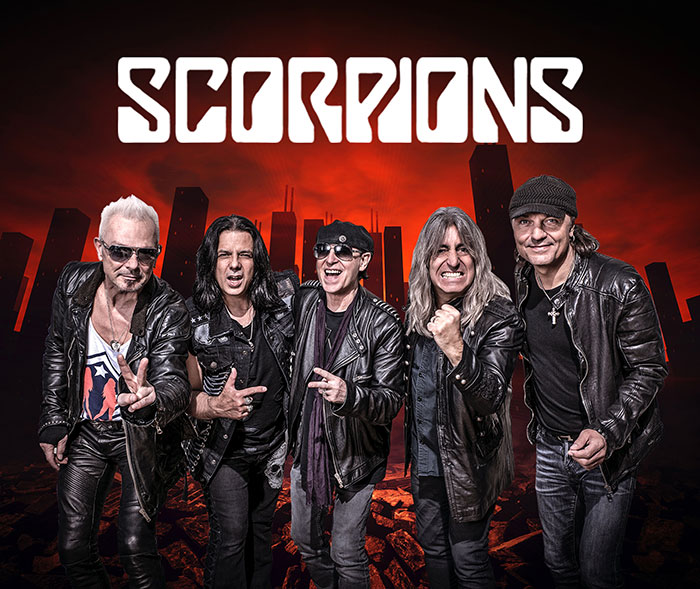 Win 2 tickets to a show of your choice on the Crazy World North American Tour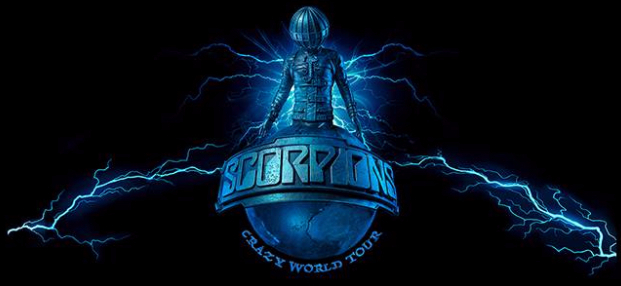 UPCOMING TOUR DATES
Tickets and VIP Packages on sale now
Date
Location/Venue
Details

Sep 14

Reading, PA

 View Info 
Santander Arena
VIP Available

Sep 16

New York, NY

 View Info 
Madison Square Garden
VIP Available
Sep 19
Laval, Canada
 View Info 
Place Bell
VIP Available
Sep 22
Toronto, Canada
 View Info 
Budweiser Stage Amphitheater
VIP Available
Sep 23
Chicago, IL
 View Info 
Allstate Arena
VIP Available
Sep 25
Broomfield, CO
 View Info 
1stBANK Center
VIP Available
Sep 26
Salt Lake City, UT
 View Info 
USANA Amphitheater
VIP Available
Sep 29
Spokane, WA
 View Info 
SPOKANE VETERANS MEMORIAL ARENA
VIP Available
Sep 30
Seattle, WA
 View Info 
Tacoma Dome
VIP Available
Oct 03
Reno, NV
 View Info 
Grand Sierra Resort
VIP Available
Oct 04
Oakland, CA
 View Info 
Oracle Arena
VIP Available
Oct 07
Inglewood, CA
 View Info 
The Forum
VIP Available
Oct 08
Phoenix, AZ
 View Info 
Talking Stick Arena
VIP Available
Oct 11
San Antonio, TX
 View Info 
Freeman Coliseum
VIP Available
Oct 12
Dallas, TX
 View Info 
Pavilion at The Music Factory
VIP Available
Oct 14
Sunrise, FL
 View Info 
BB&T Center
VIP Available
Oct 15
Tampa, FL
 View Info 
Amalie Arena
VIP Available
Nov 01
Moskva, Russia
 View Info 
Olympic Stadium
Nov 03
Saint Petersburg, Russian Federation
 View Info 
Ice Palace
Nov 22
Oslo, Norway
 View Info 
oslo spektrum
Nov 24
Goteborg, Sweden
 View Info 
Scandinavium
Nov 25
Stockholm, Sweden
 View Info 
Ericsson Globe
Nov 27
Helsinki, Finland
 View Info 
Hartwall Arena
Nov 29
Copenhagen, Denmark
 View Info 
Royal Arena
Dec 01
Gdansk, Poland
 View Info 
ERGO ARENA
Dec 03
Ostrava, Czech Republic
 View Info 
Ostravar Arena
Dec 05
Ljubljana, Slovenia
 View Info 
Center Stožice
Dec 07
Belgrade, Serbia
 View Info 
Kombank Arena
TBD
More Dates To Come

 ALERTS 

GET ALERTS WHEN WE COME TO YOUR AREA
© 2017 Scorpions. All Rights Reserved.
Unsubscribe from this list. Our mailing address is: Ludwigsplatz 9, 35390 Gießen, Germany